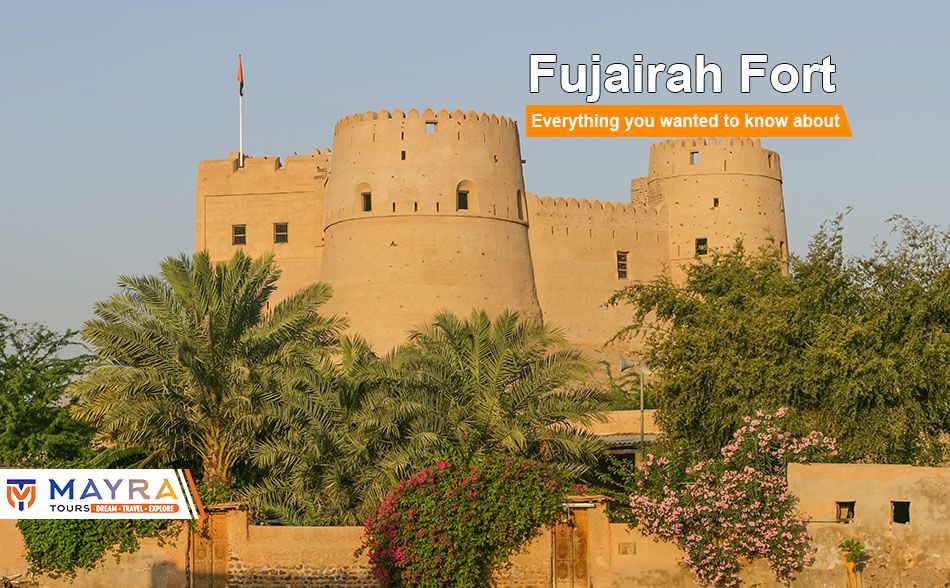 In case you happen to be in the Emirates, then you must make it a point to pay a visit to the well-known Fujairah fort. The good thing is that you can easily access this point of interest from any of the central locations in this region. Many high-profile marriage ceremonies are held at the Fujairah fort these days. It is possible for you to get some astounding views of the entire region since this fort is situated at a high altitude. Before, this fort was also a prison and a military base apart from being an imperial palace too.
History and Architecture of Fujairah Fort
It is a fact that the Fujairah fort has been constructed from local materials such as mud, gravel, plasters, and rocks. It is part of a compound where there is also a mosque as well as some outdated houses. Furthermore, there is also a square watchtower along with three round watchtowers. There are likewise walls connecting the main building and the watchtowers along with a central hall as well. The castle can boast of having an uneven shape because of the rock's irregular surface on which it is situated.
Incidentally, the construction of this fort took place in the 16th century and it helps to resist colonial expansion to a great extent. Covering approximately 610 m², the Fujairah fort has received support from mangrove poles as well. Trunks as well as palm fronds have been used for constructing the roof of this well-known structure.
Wahabbists occupied the Fujairah fort during the early part of the 19th century. However, the fort was subsequently abandoned after approximately 100 years when three of its towers were demolished by the British Navy in 1925. As a matter of fact, the British bombarded the castle for bringing into effect the anti-slavery policy. Nevertheless, things become stable after the sheik ended up paying a fine of 1500 rupees.
However, in 1997 the fort was reinstated by the Fujairah Administration of Antiquity after being left untouched for quite some time. It took as many as three years to complete the process of restoration and the structure was opened in 2000 to the general public once again.
It is possible for visitors to look at the historical past of the Fujairah Fort right now apart from getting a wonderful view of the city as well. At present, a Heritage Village has been set up in this area by the Department of Archaeology and Heritage of Fujairah. It'll be feasible for you to witness AI Yazrah's irrigation system sample here along with some renovated old houses too. Incidentally, Emirati farmers used this irrigation system at some point in time in the past.
Here, we like to mention that you will come across the well-known Fujairah Museum along with the aforementioned Heritage Village only a short distance from the castle. The museum will provide you with the opportunity of witnessing many artifacts of cultural significance. In this way, you will get a good idea regarding the tradition and history of this place mentioned here.
Things to See at Fujairah Fort
Visitors to Fujairah Fort can explore its many interesting features, including the main gate, which is decorated with intricate carvings and calligraphy. The fort also has several watchtowers, a central courtyard, and a variety of rooms that once served as living quarters, armories, and storage spaces. This place does cover under our Fujairah East coast tour, check the detail here.
One of the most unique features of Fujairah Fort is its underground tunnel system, which was used to transport goods and supplies during times of war. Visitors can explore these tunnels and imagine what life must have been like for the fort's defenders.
Another interesting feature of Fujairah Fort is the museum located within its walls. The museum features a collection of artifacts and exhibits that highlight the history and culture of the region, including traditional clothing, weapons, and tools. These are the things to do in Fujairah when you have free time.
Location
The location of the aforementioned fort happens to be in the old Fujairah locality at a distance of 2 km from what we know as modern Fujairah. It is situated at an altitude of 20 m and is at a distance of approximately 1 km from the coast.
How to Reach Fujairah Fort
It'll be pragmatic to take the help of a bus or a rental vehicle to reach the city of Fujairah. Nevertheless, you do not have any other options apart from a rental car once you enter Fujairah. This is because there is no bus station in and around the city. In this situation, it will be advisable for you to take the help of a motorbike or a rental vehicle before reaching the city.
Right now, a public transit application is also operating in this city under the name of Moovit. It is known to provide buses for the convenience of passengers all through Fujairah. By the way, the bus station nearest to this castle is situated at a distance of only 28 minutes from the Ministry of Labor.
Timing and Entry Fee
While one does not need to pay any money for entering this fort, that means the entry ticket is free, it'll be open to the public every day from 8 AM to 5 PM.