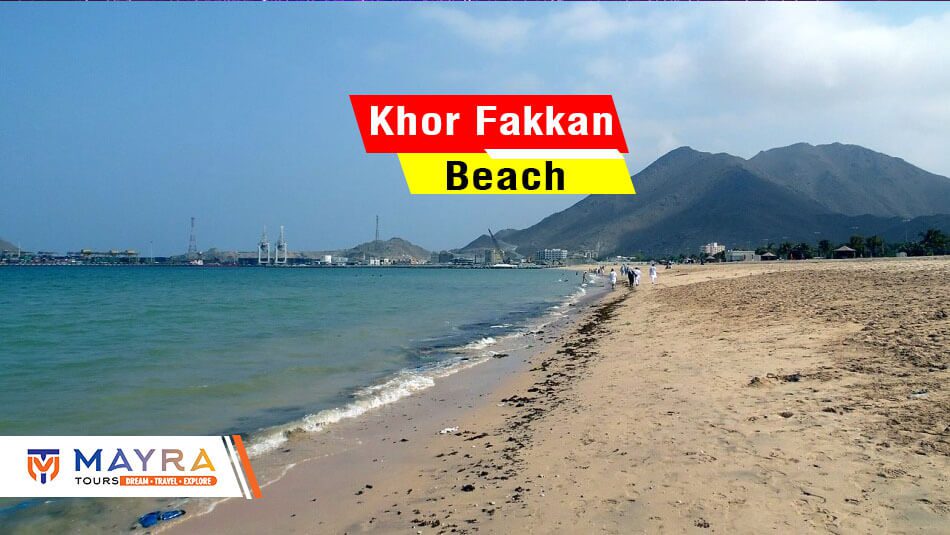 All About Khorfakkan Beach
The famous Khorfakkan is Sharjah's tiny city. Travel enthusiasts love the town for two reasons- the location and the marvelous beach. Another thing that attracts travelers is the beautiful atolls. The Emirati government took a major initiative in preserving the massive stretch of atolls. As a result, the beach became a preferred beach destination for many.
If you look online, you will find that Khorfakkan is a part of Sharjah. However, it is actually surrounded by Fujairah. Therefore, when finding the best things to do in Fujairah, you must not miss out on the beach. The beautiful background of the Khorfakkan beach includes the picturesque beauty of the Hajar Mountains. The natural rock formation along with the rustic hint makes it the appropriate spot for taking pictures.
Things to do at Khorfakkan Beach
As soon as you reach Khorfakkan beach, you will find a lot of things to try. The main island is covered by other islands that are perfect for various water games. Therefore, it is a perfect destination for those who want to enjoy aquatic games. To avoid any last-minute hassle, it is better to pre-book everything online. You can get diving gear from the vendors selling nearby the beach.
For detailed information, you can ask the local vendors regarding the beach. They are quite friendly and helpful. Since the locals know everything about the beach, you can ask them where you will find unique marine animals like turtles, fish, and other creatures. As already mentioned, Khorfakkan is all about water sports, many tour companies provide such aquatic sports via certified trainers. Let's dive into some of the best places surrounding Khorfakkan beach.
1. Shark Island
People often avoid snorkeling in the waters of Shark Island due to its name; however, tourists did not fall prey to shark attacks. If you are lucky, you will find many unknown and unseen creatures like blacktip reef sharks near the island's eastern side. The best time to visit here is between November to April. You won't have to worry since you will always remain on the safe side and the water creatures seen here feed on other things and not human flesh. While snorkeling, you will notice sea turtles and tiny fishes from a close distance. Are you a trained diver? Then your experience at the beach will be memorable. You will get the opportunity to explore the seabed and view marvelous underwater marine life. The rock formations you see here are a habitat for Arabian angelfish, rays, and other creatures.
2. Dibba Island
One of the most interesting things about Dibba Island is its attractive marine life. Snorkelers or scuba divers get the opportunity to see this closely and it is definitely a thrilling experience. Since Dibba Island has shallow waters, you will find aqua creatures like jawfish, clownfish, batfish, and many more. Apart from that, boulder corals are also present underwater.
3. Coral Gardens
Coral Gardens is the habitat for crocodile fishes and guitar sharks. So, why not capture the entire experience on your camera, after all, you won't be able to find these creatures anywhere.
4. Anemone Gardens
Situated close to Shark Island, it is a must-visit place for tourists. The shallowness of the sea here is better than the other islands, thus, making it perfect for snorkelers. A few water creatures you will meet here include seahorses and juvenile barracudas.
5. Car Cemetery
Get your driving skills tested at the Car Cemetery. Whether you are an experienced driver or not, the thrill will forever remain etched in your heart. The challenges are exciting due to the poor visibility and scary animals. Once you overcome it, you will meet beautiful and exotic water animals around the area.
6. Parasailing
If you want to enjoy a fun experience, participate in the parasailing experience. It is undoubtedly a perfect thing to do here. Trainers will be flying with you for added safety and you can record your entire experience on your camera. You get a life jacket and a ten minutes slot to enjoy the panoramic view of the beach. It opens for tourists around nine in the morning and closes by seven (Sunday-Thursday) and nine to four (Friday-Saturday).
Interesting Facts of Khorfakkan Beach
The beautiful town is situated on Khorfakkan Bay and uncountable deep-sea ports are located nearby. The town runs beside the beachfront and the view is to die for with the Hajar Mountains in the background. Some interesting facts about the town include.
You will cover a distance of 108km when traveling from Dubai's main city to Khorfakkan.
Back in 1765, the town of Khorfakkan was under Al Qasimi. It was Sharjah's ruling family during that era.
Khorfakkan has a unique meaning 'Creek of Two Jaws'.
There is at least a 219 km distance between Khorfakkan and Abu Dhabi.
The famous Khorfakkan Container Terminal is a seaport and is UAE's largest port. Besides, local travelers come here frequently.
How to Reach
This beautiful town is located approximately 137 km on Sharjah's eastern side. It lies amidst Fujairah and Dibba. You can either take a public bus or book a cab to reach. Public bus lines 33, X13, X28, 32C, and 13 will take you to Khorfakkan beach.
Entry Tickets
There are no such tickets to enter the Khorfakkan Beach . However, if you want to book your Khorfakkan trip in advance, you can talk to any reputed travel agency. The package will include everything, along with the beach trip.
Timing
There is no such time to visit the beach. But it is better to visit in the morning, especially if you want to enjoy water sports.