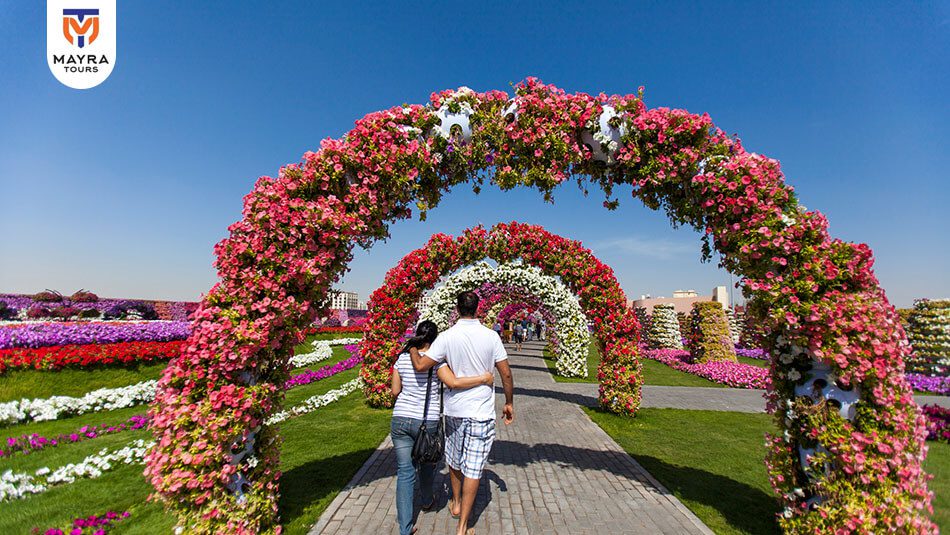 15 Romantic Things to Do in Dubai for Couples in 2023
Dubai is a fascinating tourist spot. It has something to offer to tourists of every hue. Adventure sports enthusiasts, shopping freaks, gaming zone lovers, beach aficionados – everyone seems to get more than their fill in Dubai.
But know what? Dubai also has a lot to offer to couples who are looking to spend some romantic & intimate time. Some of them are as already mentioned above – while some others are far more exclusive, allowing you and your partner some cozy time that would warm your hearts!
So, look no further! Read on to know more about 15 romantic things to do in Dubai for couples in 2023. Plan your trip centered on these activities – and let your romance with your partner reach a new high!
Romantic Dinner in Pierchic, Madinat Jumeirah
Dining at any place, by itself, may not be a much-romantic activity. But it's a world of difference in Pierchic, Madinat Jumeirah. This place serves some of the best seafood in Dubai. But along with the food, you would be rewarded with spectacular views of the Arabian Sea stretching into the horizon.
Situated on a secluded private pier jutting into the sea, the hotel offers a remarkable sense of exclusivity, guaranteeing utmost privacy as you indulge in romantic moments. Picture yourself immersed in the gentle embrace of sea waves, accompanied by delightful music and awe-inspiring vistas of the starry sky.
Enjoy a couple of hours with your beloved aboard a spick-and-span yacht. You can choose just a cruise or a lunch/dinner aboard it. The yacht is equipped with grills, a fridge, toiletries, and every item that you would need to spend 2 highly relaxed hours with your partner.
Get seated at a beautiful table decorated with flowers & candles (post-sunset) and enjoy unlimited soft drinks and food of your choice, as the yacht gently floats along the sedate sea.
Grab a seat on this beautiful beach, let your feet rest on the cold sands – and enjoy the magnificent of the imposing Burj Al Arab, standing just opposite the beach. A wonderful ambiance gets created by the setting sun and the gentle lights that are lit thereafter. Enjoy some fantastic food and let the breeze from the sea cool you – as you and your beloved make the most of the romantic ambiance.
Helicopter Ride Over Dubai
Head for the skies with your beloved. Hop on to a helicopter and choose a ride that has a duration between 12 and 40 minutes. And from up in the air, the stupendous megalopolis of Dubai would look like a dreamland – while you would feel like living in a fairytale!
Get to see awe-inspiring structures like Burj Khalifa, Jabeel Palace, Downtown Dubai, Sheikh Rashid Palace, and Corniche, among others. This would be the most memorable part of your romantic vacation in Dubai, for sure.
Fish Beach Taverna – Le Méridien Mina Seyahi Beach Resort & Marina
The fascinating Dubai skyline behind you – and the beach in front of you; well, that is the most attractive venue. What makes it even more attractive is that you and your partner can cozy up in a bean bag on the beach with a cup of coffee in hand – as the setting sun paints mind-blowing pictures in the sky and is also reflected in the sea.
As the twinkling stars illuminate the sky, spice up your romantic evening with some delectable Mediterranean & Greek cuisine that would captivate your taste buds. Post-dining, enjoy a walk on the beach, hand-in-hand with your beloved. A perfect way to spend a romantic evening, isn't it?
Rides at the Wild Wadi Water Park
From the gentle evenings to some adrenaline rush – time for some different types of activities now! Head for this water park in the vicinity of the Burj Al Arab with your beloved – and hop on one exciting water ride after another. The Jumeirah Sceirah is one of the most popular rides here – as is the almost 20-meter-high waterfall. Hold your beloved's hand as you go through some pulsating rides which are as thrilling as they are captivating.
Time for some more activity with your partner. Head for the Kite Beach, right in the morning, and start the day with some sporting activities like tennis or volleyball. During the afternoon, spend some relaxing moments on the beach and take comforting baths in the placid waters. As evening dawns, the two of you can get back to the sportsperson mode and indulge in some thrilling activities like parasailing, wakeboarding, kite surfing, and more. Sign off with some delectable food from the eateries on the beach. A happening & activity-filled day with your beloved that would add many sparks to your romantic life!
Hop into a boat at the Dubai Fountain Lake – and be a witness to some of the most jaw-dropping sights that you have ever come across. Sail along Burj Lake's shimmering waters as the sun sets – and wait for the fountain, the world's largest, to come alive.
Decorated with brilliant lights, the fountain dances in perfect synchronization with an array of melodious symphonies. The lights form dazzling images on the lake's waters – thus creating a hypnotic ambiance for you and your beloved. It would be a scene straight out of dreams for you. What better way to spend some romantic time with your partner?
A safari in the desert adjoining Dubai is some kind of a "by default" activity for tourists here. Take the excitement a notch higher by going for an overnight desert safari with your beloved. Reach the desert in the early evening and indulge in some pulse-pounding activities like dune bashing, sand skiing, and quad biking. This pure adrenaline rush would be a great way for the two of you to set the tone for the evening.
As the sun sets, the canopy of stars above the desert creates a mesmeric ambiance. Indulge in some traditional enjoyments like belly dancing, tanoura shows, and henna painting as you relax under the stars. A sumptuous dinner awaits you, consisting mostly of local delicacies. Post dinner, take a relaxing walk in the desert, holding your beloved's hand. Romantic evenings don't get any better!
Intimate Ride in a Hot Air Balloon
While the overnight desert safari made you appreciate the beauty of the "starry, starry nights" in the desert, gift another fantastic experience to your beloved – this time, the magnificent views of the rising sun across the desert; and that too, from up in the sky! Yes, we are talking about the much-loved hot-air balloon ride.
From a few thousand feet up above the earth, witness the shining desert in all its magnificence in the golden hours, as the rising sun paints myriad shades in the sky – all combining to create a most breathtaking ambience. You might even spot indigenous desert fauna like the gazelles and Oryx. Enjoy breakfast up there with your beloved beside you – and plan for another romantic vacation day ahead!
Hop on to a yacht from Port Rashid with your partner and sail along the placid azure sea waters towards the majestic & iconic Burj Khalifa. The sight of the imposing structure from a long distance is, in itself, an unforgettable experience. As you pass by the beautiful Dubai Marina and inch toward this landmark, its reflections in the seawater create an awesome experience.
The gentle sea breeze will calm your soul as the two of you witness this marvel of architecture coming closer & closer.
Spa Date with Your Partner
Getting a relaxing spa done with your better half is one of the most romantic – and rejuvenating – activities that you can go for in Dubai. Head for Palm Jumeirah and visit one of the spas there, the most notable being the Talise Ottoman Spa.
This is luxury at its peak. Your spa date will come alive in the snow rooms, saunas, and massage rooms. The cherry on the cake is the thalassotherapy pool. The refreshing & rejuvenating feeling after the spa would add many more sparks to your romantic life, for sure!
A different way to spend some romantic time with your better half is to spend some time at the Al Dhabi Stables. Go for some horse riding with your beloved and know more about these faithful animals. Apart from horses, chickens, turkeys, and ducks are also bred here – thus allowing you to gain some valuable knowledge about the process.
To add more romance to the activities, ride into the sunset over the horizon with your partner or take a gentle walk hand-in-hand across the desert wilderness as the setting sun paints magnificent shades in the sky.
Colorful Time at Dubai Miracle Garden
At over 72,000 sq meters, Dubai Miracle Garden is an explosion of colors. More than 45 million flowers of every imaginable color create an ambiance for which adjectives fall short. Explore this magnificent park holding your beloved hands as you come across myriad landscapes, all created and decorated by these flowers. It's a riot of colors all the way – and is sure to add many beautiful shades to your romantic life as well.
Picnic at Hatta Mountains
Move a little bit outside the city. Head for the majestic Hatta Mountains, around 130 km from Dubai, with your beloved. Get some wonderful views from the Hatta Dam, take a walk through the historical Hatta Heritage Village, and have a relaxing picnic in the park. You can also try out some delectable local cuisine.
Before leaving, take relaxing aimless strolls with your partner, exploring the natural pools. return to Dubai in the evening with a happy mind, after a day spent very well in the proximity of nature – and your better half.