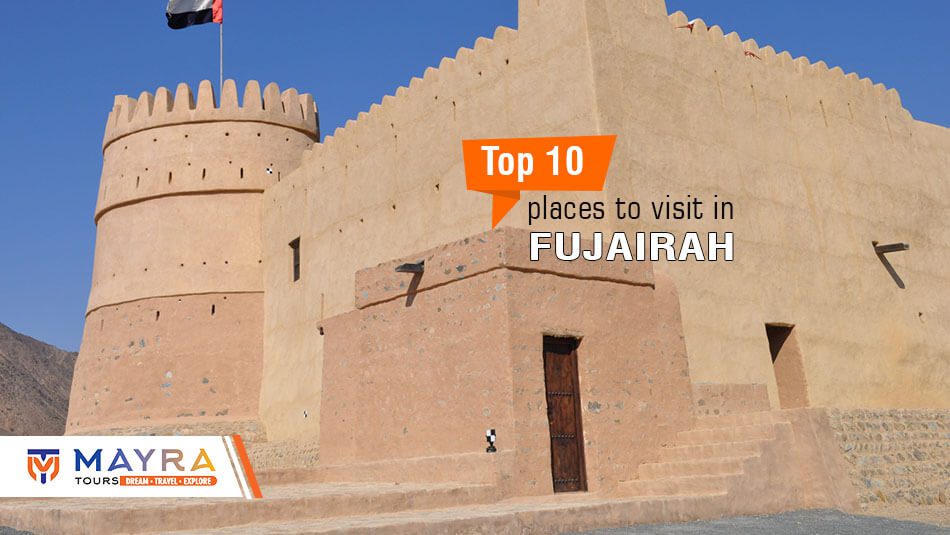 Places to visit in Fujairah
List of best places to visit in Fujairah: Do you want to experience UAE in a very different way? Well visit Fujairah, this is a popular tourist destination and it has so much to offer. We can guarantee that you are going to have a fabulous time. Are you eager to know more? Good, read on as we reveal interesting details.
Places To Visit In Fujairah
Are you visiting Fujairah, but confused about which places to visit in and around the city? No worries, as we have created a list of places that will give you a good idea on where to visit. Have a read.
Fujairah Village and Fort
This is an old fort situated in UAE and it served as the home for the royal family it's made of solid stone and it has been around for many centuries. This fort was built in the year 1670 and it is divided into 3 sections. This fort offers a good glimpse into the past and the life style of the people back then. This place is a must visit for all tourists.
Snoopy Island
When it comes to enjoying music and watersports, this is the place for you. The island has got its name from the rock that looks like the cartoon character.  can enjoy exciting activities like diving and snorkelling. The venue has beautiful coral reefs and you can see a host of different marine creatures here, the experience is truly unique. You can also have a barbecue party by the beach.
Hot Springs
This is located very close to the city it is a natural mineral spa and it also has a big park for the kids to enjoy themselves. The hot spring is divided into two area, one for females and one for males. A dip in this hot spring has major health benefits.
Corniche Road
This road covers Kalba all the way to Khor Fakkan. This is a prominent tourist spot and it is very beautiful indeed. If you are looking for a quiet time away from your busy city life this is the place for you. The road gives you a brilliant view of the mountains and the beach on each side. On this road you will find many restaurants, playgrounds for kids and fabulous beaches.
LuLu Mall
Do you love shopping? Great, then you should visit this mall without any fail. This mall has many shops that sell products from popular brands all over the world. If you are interested in buying clothes, electronic gadgets, and cosmetics, this is the place for you. You can also grab a bite in between your shopping spree at one of the restaurants at this mall.
Zayed Mosque
This mosque rans number two in the UAE when it comes to size. This mosque is not open to public, but you can see it from the outside. The mosque has 64 domes and minarets and it is made from marble and granite, which adds to its rich look. The mosque can hold 28000 people at one time and it covers an area of 39000 square meters.
Bidyah Mosque
This mosque is said to be the oldest one in the whole of the UAE. The structure is quite old and is made of stone and it has many carvings and petroglyphs on it. If you want a glimpse into the rich history of the UAE then this is the site you should be visiting without a doubt. If you are intro photography, then take your camera with you.
Bithnah Fort
This is a historical place and it is located very close to Fujairah city and it is also close to Wadi Dam and Hajar Mountains. This fort was constructed in the year 1735. The fort is just 13 kms away from Fujairah city. If you wish to learn about the history of the UAE then you should visit this place.
Kalba Park
Are you looking for a place to relax and enjoy a picnic with friends and family? Well, this is the spot for you. The park has a sprawling playground where the children can have a lovely time. The best thing about the park is that it is very neat and it is never over-crowded. You will also find several restaurants, cafeterias and shops close by.
Hayl Castle
This castle is almost 250 years and it served as the home for the royal family. The castle was built in 1830. It has beautiful wind towers that will give you a fabulous view of the surrounding area. People who love indulging in photography should visit this fort without fail, your time here will be an unforgettable experience.
So, these were the top ten places you can visit in Fujairah, these places are popular tourist destinations and you are going to love them. They are steeped in history and are blessed with natural beauty. It is time that you round up your family or best buddies and head out to these wonderful destinations and create wonderful memories that you are going to cherish for the rest of your life. Have fun and all the best.