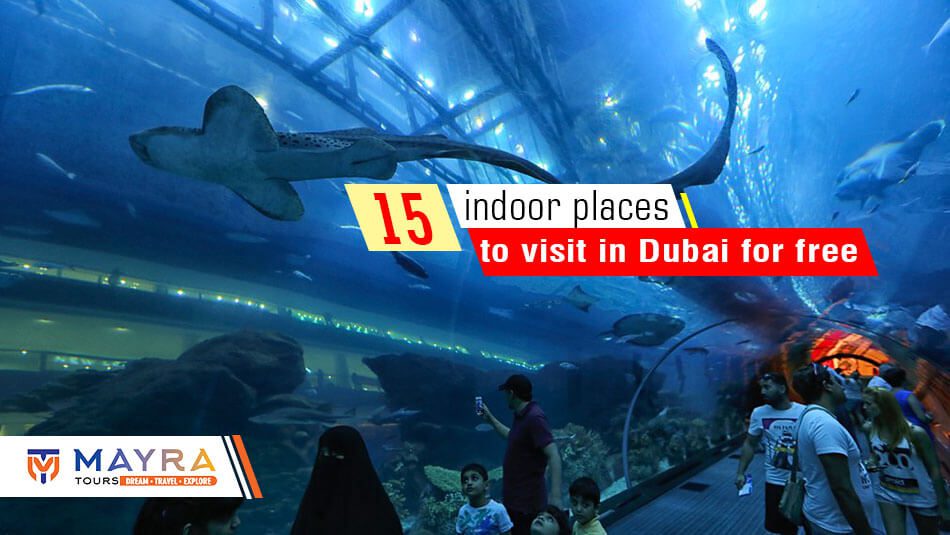 15 Best Indoor Places to Visit in Dubai for Free
It is no secret that Dubai is a luxurious city and it has lots to offer in terms of tourism. The city has gained a prominent position in the limelight ever since the Burj Khalifa has been constructed. This building is the biggest in the whole world. Dubai has a very distinct tradition and culture that sets it apart from other countries.  Now, tourism in Dubai can be expensive, which is why we have decided to share with you a list of 15 places in Dubai that you can visit without spending a dime. Isn't that fabulous? Let us get right into it.
Best Indoor Places to Visit in Dubai for Free
Al Oqaili Museum
This museum belongs to the renowned poet Mubarak Al Oqaili, who came to Dubai Somewhere in between 1875 and 1954. This museum now pays homage to him. You can view some of his handwritten poetry on manuscripts at this place. His poetry is a reflection of the early settlements and their culture.
Adventure Zone
This park is a fun place and will keep you and your kids entertained for hours. The park has fun activities such as a boulder wall, zip line, Trampoline Park, pump track, and Skate Park.  You can be sure that all these activities are safe and are supervised by trained professionals.
Heritage House
Are you keen to learn about the traditions and history of Dubai? Well, you can visit Heritage House and you will not be disappointed at all. The architecture of the building is a traditional design going all the way back to the 1800s. This is one tourist attraction that you should not miss.
Al Fahidi District
This is a residential area in the city and an ole one too. The buildings and their designs are traditional and they speak so much of Dubai's rich past. If you love photography then you are going to love every minute that you spend in this place.
Coin Museum
This wonderful museum is found in Al Fahidi area and the good thing is you can take your children for a visit too. The museum has about 470 rare currencies belonging to various eras. They are displayed all over the museum in various sections. A visit to this museum can be very educational for your kids.
Dubai Dino
Are you a fan of Jurassic Park? Well, here is your chance to view the skeletal remains of dinosaurs that walked the planet more than 100 million years ago. This place has a beautiful collection and your kids are bound to enjoy themselves to the fullest.
Coffee Museum
This is another fabulous museum in Al Fahidi area. At this museum, you can learn about the different varieties of coffee and their history. The museum also has a café where you can eat delicious food.
Dubai Aquarium
Want to have a fun time with your kids? Great, then make your way to Dubai Aquarium. This aquarium has many species of marine creatures, you will get to see many sharks and stingrays and also get to learn about their behaviour patterns. The whole experience is wonderful and one that you will not forget for a very long time.
Alserkal Avenue
This is one place where you are going to find a host of art galleries and you are going to love them to the fullest. All the art galleries here have very distinct exhibits that will leave you craving for more.
Grand Mosque
This mosque is found in the older areas within Dubai the mosque is accessible to visitors from 9 am to 11.30 pm. You can hire guides who will tell you everything you need to know about the mosque. They give you detailed information on the culture in Dubai.
Jameel Arts Centre
The museum opened its doors in the year 2018, this place has exhibitions very often so if you follow their website, you can visit when they have such an event. The museum has an outdoor theatre, library, and a space to hold exhibitions.
The Old Library
There is no doubt that libraries are very essential to educate oneself. You can take your kids to this place to hear interesting stories. The library also hosts fun sessions through which kids are taught many valuable things.
Kids Play Centre At Motor City
Do you want to take your kids to a fun place where they can enhance their creativity? Then take them to this centre and watch them have a lovely time playing and beaming with joy. This play centre is perfectly safe and your kids will receive ample supervisory care from trained professionals.
Dubai Toy Store
This is yet another fun place to take your kids. What is so good about this place? Well, this toy store will let your child play and spend time with a toy before you make purchases. Isn't that a great way to welcome customers?
Flamingo Viewing Area
Another great place that you should not miss out on during your visit to Dubai. Here you can get to see Flamingos from a pretty close distance and the sight is simply breathtaking. This place is suitable for young kids too.
Tips For First-Time Visitors In Dubai
Please do not use bad language in public as it is considered very offensive. Visitors also must never take pictures of other people without asking them. Do not wear short or revealing clothes while visiting religious places. Drinking alcohol in public places is not allowed. Most tourist attractions have their set of rules which you must follow if you do not want to face penalties.
So, these were free indoor places that you can visit in Dubai. These tourist attractions have so much to offer and we are sure that you are going to have a memorable time here. If you are looking for a break from hectic sightseeing schedules then these places are ideal for you to enjoy some peace and quiet. Now, that you are armed with the right information, you should start planning your trip as soon as possible.