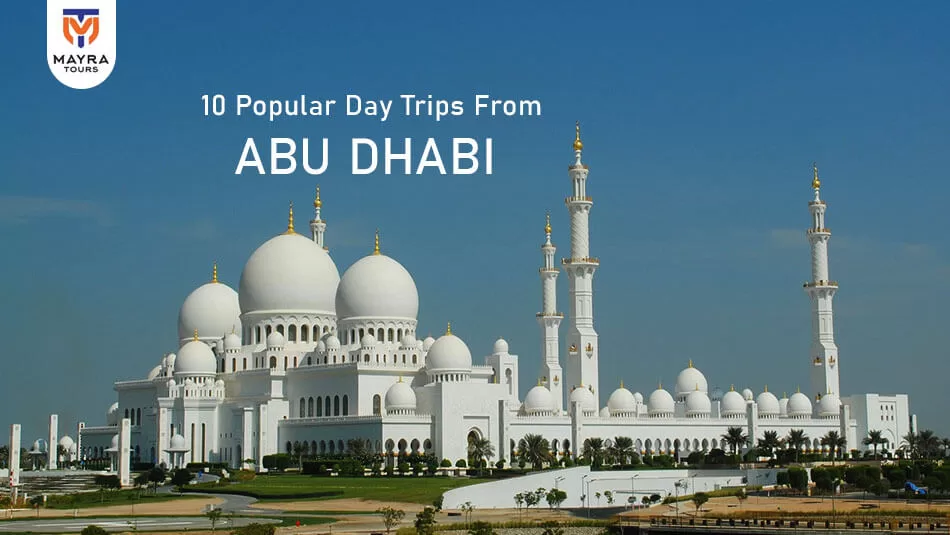 10 Popular Day Trips From Abu Dhabi
Like its fellow emirate Dubai, Abu Dhabi, the capital of the United Arab Emirates, is a popular tourist destination. Every year millions of tourist visit Abu Dhabi to experience its lovely sights and sounds. In addition, Abu Dhabi is a convenient starting point for numerous day trips, even though the city itself offers a lot of attractions. By nightfall, you may visit these locations and go back to Abu Dhabi. Learn more about the top ten-day trips from Abu Dhabi by reading on.
Ras Al Khaimah
The emirate of Ras Al Khaimah is not that much frequented by tourists. But it possesses a wealth of attractions. Dazzling beaches, museums that bring alive the chequered history of the emirate, heritage forts that take you back several centuries in time, the ghost town Jazirat Al Hamra, and various water & theme parks make Ras Al Khaimah a perfect day-out option from Abu Dhabi.  
Distance from Abu Dhabi: 250 km
Al Ain
Known as the "Garden City," Al Ain is like a piece of oasis in the desert. The Al Ain Oasis is a UNESCO World Heritage Site that is a treat for sore eyes. The Al Ain Palace Museum will be an eye-opener for you about the exciting history of the region. Visit the Al Jahili Fort to get an idea of the historical Al Ain. Arts enthusiasts can head for the Al Qattara Arts Center.
Looking to spend some more time in nature's company? Head for the Green Mubazzarah Park. Lush green lawns, hot springs, and beautiful palm trees would cast a spell on you. The adventure freaks can head for the Al Ain Adventure Park. Sports like wakeboarding, kayaking, surfing, ziplining, and whitewater rafting, among others, can be enjoyed here.
Wild Wadi Waterpark
Located in Dubai, the Wild Wadi Waterpark is a fabulous destination to spend some thrilling & highly active time with the entire family. There are lots of exciting rides here, along with splash pools & water slides. Splash around, enjoy the thrills & chills, and also be rewarded with mind-blowing views of the Burj Al Arab from here.
Done with all the fun & frolic? Satisfy your taste buds at Riptide Pizza or Smoke House and then relax by Juha's Journey Lazy River in one of the beautiful cabanas.
IMG Worlds of Adventure
Welcome to the largest indoor theme park in the world – IMG Worlds of Adventure. This park is nothing less than fascinating. There are 5 zones here, based on a certain theme – Marvel, Cartoon Network, Lost Valley, Novo Cinemas and IMG Boulevard. Head for some advfenture, meet your favorite superheroes & cartoon characters, and watch 3D & 7D animation movies – followed by lip-smacking dinner.
Distance from Abu Dhabi: 140 km
Sharjah City Tour
The wonderful city of Sharjah is considered to be the cultural hub of the UAE. Located by the Arabian Gulf, Sharjah is full of traditional structures that are reflective of the rich Emirati heritage & culture. Various museums, aquariums, and mosques adorn this eye-catching city, making it a perfect day-trip option from Abu Dhabi. The list of the must-visit sites here includes the Mamzar Beach, King Faisal Mosque, Sharjah Beach, and Sharjah Museum of Islamic Civilization.
Distance from Abu Dhabi: 160 km
Liwa Desert Safari
Mile after mile of glowing sand, stretching endlessly into the distant horizon and creating a hypnotic ambience – that's the Liwa Desert for you. It ensures total seclusion to let you relax peacefully – and also spectacular scenery. A night spent in a desert camp under the starry skies is nothing short of a heavenly atmosphere. You may also choose to go for a camel safari or a drive around the desert in a 4×4 SUV.
Fujairah East Coast Tour
Located around 300 km from Abu Dhabi – approximately a 3.5-hours drive – the stunningly beautiful Fujairah beach is ready to welcome you. This east coast-based beach is picture-postcard beautiful – with its glowing white beaches, sparkling waters, and abundant marine fauna, resplendent in a riot of colors. Go for a swim, relax by lying down on the beach, or take aimless walks – every way, the Fujairah East Coast tour is going to be a most rewarding experience.
Jubail Mangrove Park
The Jubail Mangrove Park is located within the Jubail National Park in the Jubail Island. It's a short distance away from Abu Dhabi & is rapidly climbing the popularity chart with tourists & locals alike. There are several pathways inside the park that wind through mangrove forests, creating a serene atmosphere. You can also get up close with the local marine life from the floating platform. You can also go for dragon boating & enjoy the stunning views of the setting sun – followed by some night glow kayaking.
Jebel Hafeet Desert Park
This UNESCO World Heritage Site is situated at the foot of Jebel Hafeet – the highest peak in Abu Dhabi. this place is a treasure trove of archaeological discoveries, including Neolithic era implements & tombs from the Bronze Age. This place almost takes you back in time to the prehistoric & early historic days of the emirate. Go for a hawk walk through the ghaf tree forest and also indulge in some cycling, hiking, and overnight camping activities. And all throughout your stay here, be awed by the sight of the massive Jebel Hafeet – towring above everything else.
Al Wathba Wetland Reserve
This one is a must for nature lovers. Counted among the earliest designated areas for protection – by the erstwhile ruler, Sheikh Zayed – this site is included in The International Union for Conservation of Nature Green List of Protected and Conserved Areas. This reserve is particularly reputed for sighting flamingos. These beautiful – and majestic – birds are found by the thousands here, especially in spring & autumn.
Go for a walk along the designated walking trails to get closer views of these beautiful avian species. There are more than 250 other bird species also to be seen here. The flamingo watching tower is also a vantage point for viewing these marvelous birds.